7 Peaks House
The goal of this design is to create a backdrop for living that fosters a strong connection with the surrounding natural environment. It accomplishes this through the homes layout, orientation, and architectural detailing.
Winner of 2017 Parade of Homes Best Overall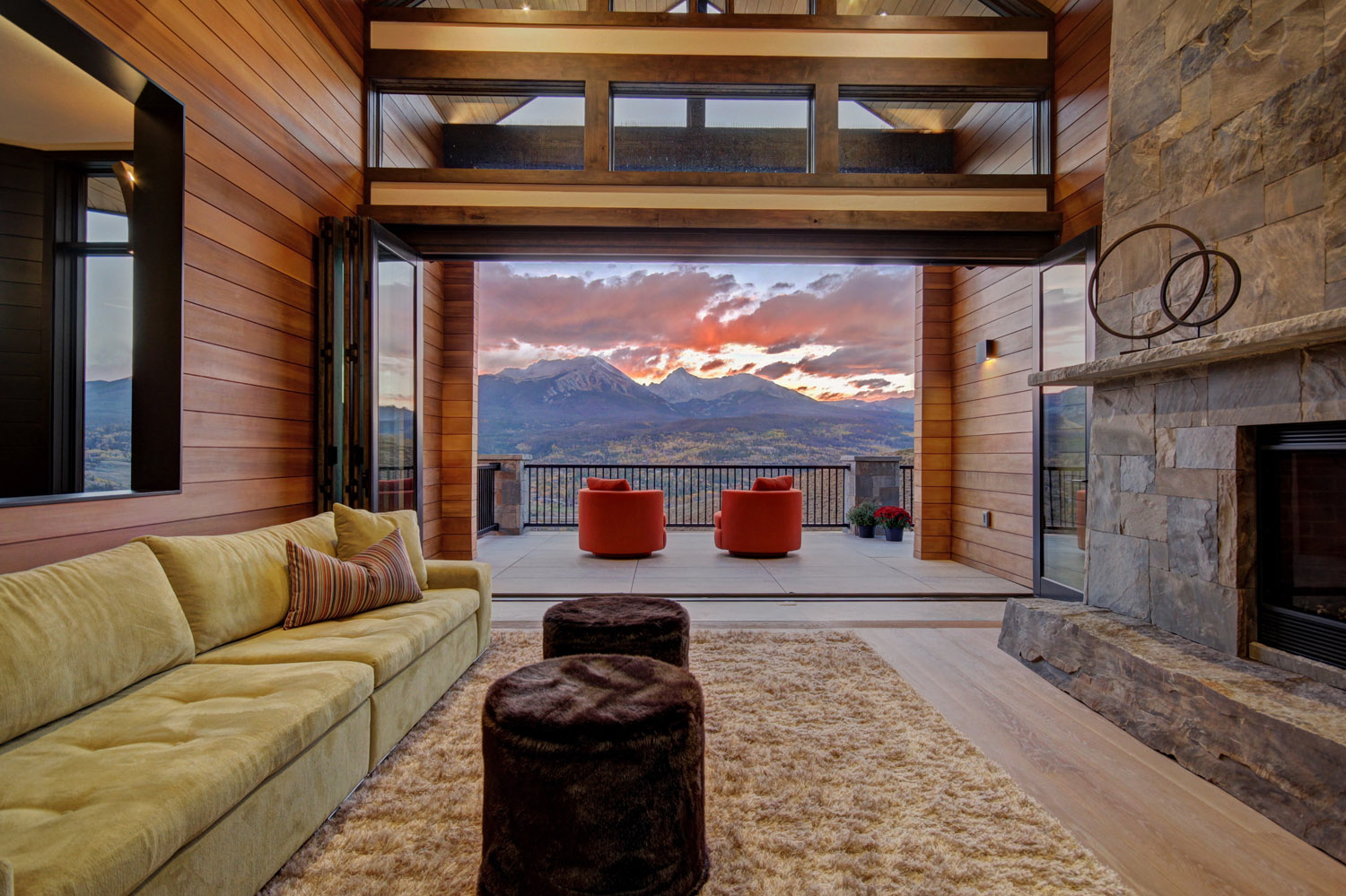 The design is based around a series of rooms that hold the most important functions of a home. These rooms are placed on the site in such a way that each takes full advantage of the views and other site features. A willingness to allow atypical building angles highlights the design's acute awareness of distant view corridors. The home's form creates a courtyard space at the entry providing a more immediate view to a picturesque landscape. At its core is a palpable water feature that creates visual and audible interest to pull attention towards the landscape from inside the home. Architectural detailing also plays an important role in accomplishing the homes goal of fostering a connection between indoors and out. This includes the way forms and materials are carried from one condition to the other, the 17-foot folding door in the living room, and the green roof that allows the natural landscape to flow onto and across the home. We have created a truly unique piece of art, molded by the expansive views that grace the site. We hope you will enjoy it as much as we have enjoyed creating it.
Mike Hurley, formerly of Raptor Construction, managed the build process on this home. He is now with Copperleaf Construction.
Indoor/outdoor space
The continuous use of materials is highlighted by the ability to transform the indoor living area into a combined space.
Living roof
Designed by Jorg Breuning of Green Roof Technology, the roof features local flora that flows from the hillside onto the home.
Water feature
This custom feature is located at the entry to the home and provides both visual and aural backdrop to the living space.
Project Name: 7 Peaks House
Location: Silverthorne, Colorado
Size: 5,951 square feet
Year: 2017
Awards
2017 Summit County Parade of Homes - 4,000 to 5,999 square feet
Winner of the following criteria:
Exterior Design & Elevation

Kitchen

Master Suite

Interior Finishes

Landscaping & Outdoor Living Space

Builder Concept & Workmanship

Best Overall
Bank of the West 'Best Bunkroom' winner across all homes from all categories